Explore inside U-995, the Last Surviving German Type VIIC U-Boat in the World.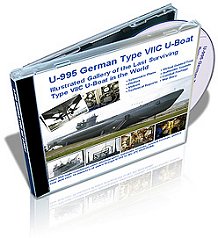 Without a doubt, the most successful attack submarine in the history of naval warfare is the German Type VII U-boat. While submarines had been developed and used during the First World War, but none had ever been used with such great success as the German Type VII U-boat.
Today, one last example of this deadly u-boat remains. She is U-995, a Type VIIC/41 attack u-boat, resting peacefully on the shores of Ostsee beach, in Laboe, Germany. Preserved in time, she had in 1971 been converted into a museum ship. Annually, the U-995 museum attracts over 350,000 visitors.
Imagine what it would be like if you could visit this u-boat, and experience the fascination as you step inside this engineering marvel, and toured inside the world's most successful attack submarine in history, the German Type VIIC Attack U-Boat.
Who Would Benefit From This?
Professional modelers who are looking to build highly accurate replicas of the Type VII U-Boat would benefit from more than 600 high resolution photographs and 42 minutes of Full HD video. These practically show every visible part of U-995, and provide a reference point for the color scheme, and the detailed photos needed for scratch building projects.

Historians and Researchers looking for highly detailed photos, videos and information to aid in their project - either for a wreck diving expedition, producing a historical documentary, book writing, or other research. The included reports and information in the Virtual Guided Tour would demystify many aspects of the workings and life onboard a WW2 U-boat.

For U-Boat Enthusiasts, Collectors and anyone fascinated with submarines, would especially benefit from this DVD – because unlike any other book, the type of information contained on this DVD is unique. For example, it contains photos, videos, sound files, 360 panoramic tour, u-boat music, war diary, virtual guided tour, and much more that I've yet to see any book out that offers all these in a single package.
If you're in a hurry or would like to save time, then click here to choose the Standard DVD edition, or here for the Full HD edition.
What Is The U-995 German Type VIIC U-Boat Illustrated Gallery Revised Edition DVD?
The U-995 German Type VIIC U-Boat Illustrated Gallery Revised Edition DVD is a collection pack of 3 discs featuring unique information about U-995.
The main disc is a software based DVD-ROM that runs on Microsoft Windows computers. Once installed, this disc takes you up close and inside the guts of U-995 for a personal inspection of this U-boat. As you explore this DVD, you'll get to see hundreds of dials, hand-wheels, and gauges. The Virtual Tour, 360 Degrees Panoramic views, War Diary and many other Extras are also contained on this disc.

The second disc is a Video disc, which comes in two flavors - Full HD, or Standard DVD. Shot on location in Laboe, the video is over 42 minutes and it covers every part of U-995, inside and out. The Full HD version requires a compatible BluRay player, otherwise a standard DVD player may be used for the DVD-Video version.

An Audio CD of U-Boat songs to relive the era of the U-boat war. This CD can be played on any stereo system.
This 3 disc pack is designed to relive the experience, the stories, and the ordeals of the U-Boat crew, to transport you inside this iron coffin of the World War Two era. . .
What's Inside The Package - Features and Benefits
Whether you're a researcher and need reference photos of the air compressor and voltage meters of the U-boat's electrical system, a modeler building a u-boat from scratch and are looking for highly detailed walk-around gallery photos, or you just want to explore this engineering marvel - this resource is unlike any other book or DVD on the subject. . .
With the U-995 German Type VIIC U-Boat Illustrated Gallery Revised Edition DVD you will:
View over 600 color photographs detailing every nook and cranny of U-995. Photos are narrated and compiled by sections within the U-boat leading you on a virtual tour of the inside, and outside of U-995.


Examine large, high resolution photographs. We use the highly acclaimed Canon EOS 5D Mark II camera, and the photographs you get are uncompressed and unedited. This means the photos are very large (some up to 5616 x 3744 pixels resolution - that's 5 and a half feet across!!!). You can expect photos of the highest quality - perfect for viewing minute technical details.


Experience 42 Minutes of Full HD videos inside and outside of U-995 providing a virtual walk around tour - section by section - from the propellers, to the bridge, to every section inside the u-boat from the rear to the front. Absolutely nothing has been left out in over 42 minutes of footage shot on location in Laboe!

Note:- For Full HD video, a compatible BluRay player is required. For those without a BluRay player, may opt for the standard definition video disk which plays on any regular DVD player.


Inspect Schematic Plans illustrating an accurately scaled top and side drawing of the U-boat. Plans are big and crisp, at 3000 pixels wide, suitable for modelers and graphic artists.


Unlock the U-Boat's secrets by reading the technical reports containing career history, boat emblems and technical specifications helping you understand the performance and characteristics of a Type VIIC.


Step inside the U-boat with the Virtual Guided Tour as it guides you through every compartment in the U-boat. Imagine Oberleutnant zur See (First Lieutenant) Hans-Georg Hess proudly showing you around his boat! In English, he guides you through section by section, demystifying all the dials, hatches, hand-wheels, and equipment.


Watch video clips of every compartment during the virtual tour, so you get a first person perspective of U-995 that leaves you with the feeling of an actual visit! If you were to go to Germany, you couldn't even get a guided tour - at any price! With this DVD, you get to experience this u-boat at your own pace, wherever and whenever you want!


View 360 Degree Panoramic Tours from every section inside the U-boat. A Panoramic Tour is also referred as Virtual Tour or Virtual Reality Tour. It enables you to look all around you, in fully immersive 360 degree freedom. We have included this in every section inside the u-boat, so you are practically sitting inside the U-boat, with a first person view looking all around you.

Try it out below...



Click and drag anywhere in the screen on the left. Use the scroll button to zoom.

This is the 360 Degree Panorama View from the Chief Petty Officer's cabin.
"With this DVD-ROM you'll spend hours exploring U-995! Its both Impressive. And well worth it!"
The U-995 German Type VIIC U-Boat Illustrated Gallery Revised Edition DVD-ROM is the definitive source of rich and unique information about U-995. Once you put this DVD-ROM into your computer, you'll spend hours exploring and experiencing the rich details of U-995.
A Modeler's Companion
Especially for modelers - many modelers have written in with feedback and praise on how this DVD has helped in their project. So if you're making a u-boat model of the Type VII U-boat, this DVD is the ideal tool to help in your project. Blueprints, full color photos, and the video tour allows you to create models of intricate detail and accurate colors.
Here's a random unsolicited feedback we received from two modelers :-
Order Today And Receive Four Bonuses With Your Order
When you order your copy of the U-995 German Type VIIC U-Boat Revised Edition DVD, you will receive four special bonuses for FREE to complete your experience of the U-Boat War era.
Original U-Boat Sound Files

Get Eight Original U-boat Sounds. These are original U-boat recordings done inside a real u-boat by media staff and private collectors. They are NOT ripped from a computer game, or artificially created in a studio. These actual recordings mean you'll hear what the crew actually heard while inside a u-boat. Listen to actual recordings of :-

The Diesel Engines Running While Snorkelling Beneath the Waves
Electric Motor Sounds While Running Submerged
Sound of Torpedo Launching
Atmospheric Sounds in Torpedo Room Submerged
Sound of Blowing Ballast Heard From Control Room
Sound of U-Boat Surfacing Heard From Control Room
Depth Charge Exploding Underwater Heard From Control Room
Cruising on surface With Diesels

U-Boat War Diary

During World War Two, U-boat war diaries (Unterseeboot Kriegstagebüch) were worth their weight in gold because they held the experiences of other U-boat commanders during combat and on patrol.

Included in this DVD is the English translation and original German scans of the Engineering War Diaries of U-106, U-107 and U-138.



U-Boat Propaganda Footage

Over 20 minutes of seven WW2 U-boat footage so you can watch and visualize actual events which occurred during the U-boat war. Watch :-

The Construction and Launching of U-Boats at a German Dockyard
Transfer of Torpedos in a Mid-Ocean Replenishment
U-boats on Patrol in the Atlantic
U-boats Torpedoing and Shelling Allied Vessels with the Deck Gun
Life Aboard U-boats. Watch the crew shower, sleep, play a game of cards, and even enjoy a meal of pancakes at the Galley
U-boats in American Coasts during the Second Happy Time
And much, much more...

All footage in German language with English subtitles...



Music CD of Eighteen U-Boat Songs

For a limited time, a FREE Music CD of eighteen U-Boat Songs is included in the bundle. These were the hymms and marches popularly played during ceremonies, award presentations and which the U-Boat crews sang to during their training in U-Boat School.

During long war patrols, COs often allowed rousing tunes to be played on the boat's loudspeakers (using the gramophone) as they helped raise crew morale and alleviate the uncertainties of battle.

These U-boat marches were played not only during military hardships - but also during triumphant moments, to celebrate a particularly successful victory.

This audio CD will transport you back to the era, and allows you to listen to the same tunes which were played from the boat's loudspeakers during war patrols.

These marches are 1940 recordings in the original German language. It plays in your car or on your home stereo.
Your 60 Days 100% Risk Free Order Guarantee

All products purchased from this website carries our
60 Day Money Back Guarantee Seal.
This no nonsense 100% satisfaction guarantee means that if you find before the end of your 60 days that it's not for you, just let us know, and we'll cheerfully refund you 100 percent of your order price, including shipping!
Here's How To Claim Your Copy
The U-995 German Type VII U-Boat Revised Edition DVD comes in two offerings - a Standard DVD edition, or a Full HD edition.
Both editions contain the same amount of great value, content and bonuses - the only difference is in the Video disc.
The Standard DVD Video edition comes with a Standard DVD disc which can be played on any DVD player.
The Full HD Video edition comes with a Full HD disc, which can be played on compatible BluRay players. If you have a BluRay player, and a HDTV, you should definitely choose this because there is a significant difference in video quality and sharpness between standard DVD and Full HD quality.
Shipping is an international flat rate of $2.95 worldwide.
Reserve Your Copy Now
And here's the summary of what you will get in your order:-

| | | |
| --- | --- | --- |
| | | |
| | | One U-995 German Type VIIC U-Boat Revised Edition DVD. |
| | | One video disc, which is either the Standard DVD or Full HD version - make your choice. |
| | | One Music CD of 18 Classic U-Boat Songs. |

YES


I'm ready to order The U-995 German Type VIIC U-Boat Illustrated Gallery Revised Edition DVD-ROM now.


YES! I understand I will receive the complete DVD-ROM set that includes detailed video, photographs, schematics, history, virtual tour, panorama tour, u-boat sounds, and other bonuses of U-995.


YES! I understand that I have a full

100% Money-Back Guarantee

, and I can hold on to the DVD for a full two months. And if I'm not completely satisfied, I can send it back and get a FULL REFUND - No Questions Asked!


YES! I would like to receive the rare BONUSES before they become unavailable and I know they are not available anywhere else.
PLEASE MAKE YOUR CHOICE BELOW.
System Requirements
Minimum System Requirements:
Windows XP/Vista/7
DVD-ROM drive
512 MB RAM
4.4 GB of free storage space
Internet connection
Attention Mac Users: We recommend a Virtual Windows emulator using either VMWare Fusion or Parallels for Mac.
For Full HD Edition Only:
BluRay player or compatible player that supports the AVCHD format
PLEASE MAKE YOUR CHOICE BELOW.
PS:- Unlike any other book or resource, there is nowhere else on the planet where you could find such rich information and content on U-995 and the German Type VIIC U-Boat. I suggest you own this piece of this history now -- so you can step inside and explore U-995 before it is unobtainable at any price. Take Me Onboard!

All orders are processed by our online retailer CCNow using a Secure Server.