U-Boot Type 206 German Diesel Electric Submarine - John Shum

This is a Revell 1/144 scale of the Type 206A. It is modeled after S-177 of the Bundesmarine.

In response to the Warsaw pact, the Type 206 was developed during the Cold war as a hunter-killer submarine to operate in the shallow depths of the Baltic sea. It first entered service in 1973 with the Federal German Navy and by 1987, it underwent a modernization programme which designated it as the Type 206A class.

This submarine is one of the smallest and most maneuverable armed submersibles in the world. The Type 206 is well known for its low acoustic and low magnetic signature, making it very difficult to detect underwater.

Displacing around 500 tonnes, it is armed with wire-guided torpedos located in 8 bow tubes. The twin diesel engines delivers 600 horsepower (441 kW) for a top surface speed of 10 knots, while the single Siemens electric motor delivers 1100 kiloWatts of power giving it a top submerged speed of 17 knots.

Eighteen units were commissioned, twelve of which are still in service today.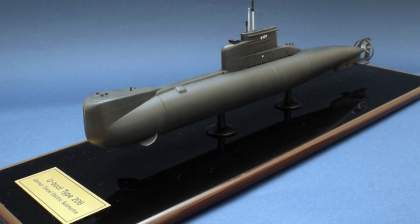 This kit is a highly detailed precision model with raised surfaces and recessed panel lines. The hydroplanes, rudders, periscopes, antennae and masts are adjustable with a full array of optional positions. The propeller used is the seven bladed type.
The superstructure has incredible detail, showing the sensors, bolt marks, joint lines and even the sectionalized hull of the submarine - typical of the high quality precision you can expect from Revell.
Measuring 10 inches (250 mm) from bow to stern, this professionally built kit comes with a custom made glass display.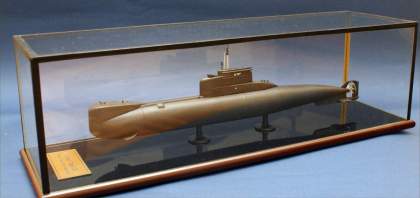 The glass display measures 420mm x 120mm x 130mm (Width x Depth x Height). It is roughly the size of your keyboard (assuming you're using the standard 101 keys keyboard).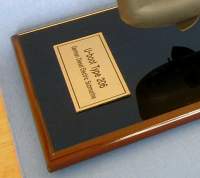 The display base uses a shiny mirror like black surface while the border uses a polished wooden walnut finish, giving it a "highly elegant look". A bronze plate adorns the inside of the display base.
The bronze plate reads "U-boot Type 206. German Diesel Electric Submarine".