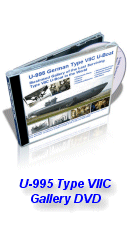 U-Boat Photo Gallery
This photo gallery attempts to capture the epic struggle of the U-boat force during the Battle of the Atlantic. During the war, German U-boats sent over 2900 ships and 14 million tons of allied shipping to the bottom of the sea, nearly cutting off the vital supplies of food, fuel and raw materials of Great Britain.


Page 1 Page 2 Page 3 Page 4 Page 5 Page 6 Page 7 Page 8
Page 9 Page 10 Page 11 Page 12 Page 13 Page 14 Page 15 Page 16
Page 17 Page 18 Page 19
---

A young U-boat commander on a debriefing with Donitz, while his adjutant (in white uniform) looks on. Donitz had as much as possible, personally meet returning crews and skippers so as to draw the proper lessons after every patrol. He was quickly promoted to Rear Admiral, Grand Admiral and finally succeeded Hitler after the latter's suicide.
---

U-47, one of the 24 Type VIIB U-boats. Commanded by KL Gunther Prien, the U-47 was made famous with the daring attack on the Royal Oak, a 29,000 British battleship and sank her with three torpedoes while anchored in Scapa Flow on the night of Oct 13/14.
---

U-156, commanded by KL Werner Hartenstein. She was one of the many Type IXCs but was made well known because of the Laconia Incident.
---

Originally intended as a defensive weapon, the 88mm anti-ship cannon played a useful role in offense as well, where it was often used to sink lone merchants and stragglers. Mounted on most Type VII U-boats, the naval 88mm is totally unrelated to the famous 88mm of the German Army - to such an extent that they could not use the same ammunition.
---

Seven Type II U-Boats of the Weddigen flotilla, 1935. Weddigen is named after the famous WW1 ace, Otto Weddigen who sank three British cruisers in a single engagement.
---

A U-boat stalking a convoy, which can be seen scattered ahead.
---

A rather controversial photo. One source puts it as a merchant ship crossing the Atlantic in 1940. While another states that its a German vessel, probably a warship laying mines or on anti-submarine patrol in coastal waters. Another source puts this as an armed trawler...
---

Three Elektroboat Type XXI U-Boat in Norway, Bergen, 1945. In the center is U-2511, one of the only Type XXI to conduct a war patrol.
---

One of the last photos off the U-507 attacked by plane in Brazilian Coast. This boat was sunk in this attack.
Contributor: Marcello Magnelli Report
---

37mm and 20mm anti-aircraft cannon on a Type VIIC U-Boat.


Page 1 Page 2 Page 3 Page 4 Page 5 Page 6 Page 7 Page 8
Page 9 Page 10 Page 11 Page 12 Page 13 Page 14 Page 15 Page 16
Page 17 Page 18 Page 19

If you have a U-boat photo to share, then we welcome you to upload it to this gallery. Photos kept in a private collection and never to be seen are a truly wasted resource, which might as well not exist. All photos are automatically rotated everyday so everybody gets their turn at the top.
Click here to submit your photo