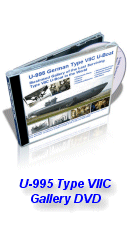 U-Boat Photo Gallery
This photo gallery attempts to capture the epic struggle of the U-boat force during the Battle of the Atlantic. During the war, German U-boats sent over 2900 ships and 14 million tons of allied shipping to the bottom of the sea, nearly cutting off the vital supplies of food, fuel and raw materials of Great Britain.


Page 1 Page 2 Page 3 Page 4 Page 5 Page 6 Page 7 Page 8
Page 9 Page 10 Page 11 Page 12 Page 13 Page 14 Page 15 Page 16
Page 17 Page 18 Page 19
---

Photo of a torpedo detonator sent in by Dan. Obtained from an antique market, the manufacturer codes can be seen. Dan is looking for information on model specifics to trace the manufacturer, along with how these detonators work to arm and detonate the payload. Please drop us a note if you have these information.
---

Crewmen of the U-592.

With thanks to Gerard Walker.
---

U-181
Contributor: bad karma Report
---

U-136 sails into a bunker in Lorient. Note the bunker numbers.
Contributor: U-136 Report
---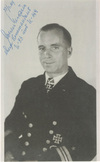 U-199 Commander
Contributor: Report
---

U-199 Kapitšnleutnant Hans Werner Kraus
Contributor: Report
---

U-199 Survivors
Contributor: Paul Soukup Report
---

U-199 Strafing
Contributor: Paul Soukup Report
---

U-199 puts up intense antiaircraft fire during strafing attacks.
Contributor: Paul Soukup Report
---

U-199 Fly over
Contributor: Paul Soukup Report


Page 1 Page 2 Page 3 Page 4 Page 5 Page 6 Page 7 Page 8
Page 9 Page 10 Page 11 Page 12 Page 13 Page 14 Page 15 Page 16
Page 17 Page 18 Page 19

If you have a U-boat photo to share, then we welcome you to upload it to this gallery. Photos kept in a private collection and never to be seen are a truly wasted resource, which might as well not exist. All photos are automatically rotated everyday so everybody gets their turn at the top.
Click here to submit your photo