The U-boat War Badge was originally instituted during the First World War on February 1st 1918. It was awarded to recognize U-boat crews who had completed three war patrols. The badge was worn on the lower left side of the uniform and was oval shaped resembling a wreath of laurel leaves. A submarine lay across the center and the Prussian crown was inlaid at the top center of the wreath.
On October 13 1939, the U-boat War Badge was reinsituted again, shortly after the war began. It was very similar to the original badge with the exception of the Prussian crown which was replaced with a German eagle, and a more modernized submarine which was now facing towards the left.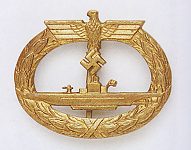 There were several ways to be awarded this medal. The most common would be the completion of two war patrols. Although the completion of two war patrols might seem a lowly requirement, but a typical U-boat war cruise would often run into months at a time. As a contrast, the Army War Badge was awarded after three combat actions, which meant that they could be earned on three separate actions all under a week. Completing two war patrols was not only longer, but it was equally dangerous as the boat has to endure constant attacks by allied aircraft and warships. During the later part of the war, U-boat losses were so great that many crewmen never made it past the second war patrol. The other occasion when this badge was awarded was on completion of an especially successful first patrol or having been wounded or killed in action. In the event of death, the award was presented to the next of kin.
U-boat Badge with Diamonds
The U-boat Badge with Diamonds was a special issue award given to U-boat commanders who had received the Knight's Cross of the Iron Cross with Oak Leaves. This award was not given based on certain merits and was not an official war decoration, but instead it was given as an additional token of regard to Oak Leaves recipients. It was usually presented together when the Knight's Cross with Oak Leaves was awarded.

Instituted in 1941, this badge was similar in design to the U-boat War Badge but was made of gilding silver and had nine small diamonds inlaid on the swastika with the medal. Approximately 30 were awarded with Admiral Donitz being one of the recipients. He wore a special version in which the wreath as well as the swastika was inlaid with diamonds.