Designed by Korvettenkapitan Hans Bartels, the Biber was a one man midget submarine with dual propulsion for surfaced and submerged operation. For surface running, the Biber was driven by an Opel petrol engine, which was the same engine used on the Opel Blitz truck. For submerged operation, the Biber relied on electric motors with a maximum dive time of between two to three hours. As with the Molch, the Biber featured two underslung G7e torpedoes but the batteries in the torpedoes were reduced in an effort to reduce the total weight. This shortened the torpedoes range but the effect was negligible as poor vision from within the submarine meant that attacks had to be conducted at short range. A distinct advantage the Biber possessed over the Molch was its streamlined hull, from which a small conning tower arose approximately amidships. Vision ports were fitted on the conning tower which stood approximately 52cm above the surface. For increased vision, a 1.5 meter periscope was also fitted and it could be rotated 40 degrees on either side.
The Biber had a maximum range of 100nm at 6.5 knots surfaced or 8nm at 5 knots submerged. The submarine was also fitted with a compass and a snorkel to provide fresh air for both the crew and engine. Two diving tanks forward and aft facilitated diving up to 65 feet but problems with depth keeping prevented the submarine from making submerged attacks. The pilot was positioned amidships, beneath the conning tower.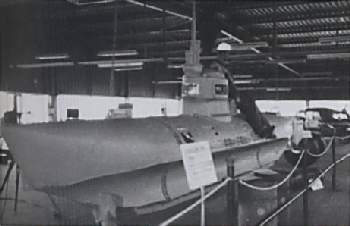 The Biber featured a streamlined hull, but the two underslung torpedoes increased its hydrodynamic resistance.
There were plans for a more advanced version of the Biber, with strengthened hull and greater rigidity, thus providing greater diving capability. The Biber II was to be a two man version with the crew taking turns of duty. Finally, Biber III was to feature a closed-cycle benzene engine but neither of these projects made it past the drawing board.
First delivered in May 1944, the first Biber mission took place at Fecamp, Belgium on August 20 1944. The Biber saw action in almost all coastal shores in Europe, including Norway, Denmark, France, Belgium, the Mediterranean and the Netherlands. They were used for coastal defense but their success was negligible, while sustaining heavy losses. A total of 324 were built, mainly by Flenderwerke, in Lubeck.
Biber Specification
Displacement
6.25 tons
Dimensions
Length
Beam
Diameter

29.6ft (9.03m)
5.2ft (1.57m)
3.2ft (0.96m)
Top speed
Surfaced

6.5 knots
Maximum range
100nm at 6.5 knots
Motor output
9.8kW
Diving depth
65ft (20m)
Torpedoes
Two 21 inch
Crew
1
Number built
324