Whereas the Molch, Biber and Hecht were considered experimental submarines rushed into service with as many reusable components as possible, the Seehund was designed from ground up as a true midget submarine. It incorporated all the lessons learnt from previous designs and technical excellence was eventually achieved. Also known as Type 127, the Seehund was designed under the direction of Dr. Fischer and Grim, both from the German Naval Construction Board in 1944.
The basis for development was to incorporate all technical capabilities of larger U-boats, which included surfaced and submerged operation, an armament of two G7e torpedoes, dual propulsion of diesel and electric motors and sustained high speeds, both underwater and on the surface. It displaced 14.9 tons and was equipped with a three meter periscope from which the two man crew could navigate surfaced up to 300nm at 7 knots or 63nm at 3 knots submerged. The safe diving depth was 30 meters, although many reported diving up to 70 meters without incident. The commander and an engineer occupied the mid section of the submarine, whereas the engine was housed in the rear.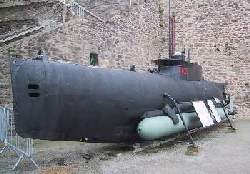 The Seehund incorporated all previous lessons learnt from earlier models and was suitable for sustained surfaced and submerged operations.
Following successful trials, an order was placed in July 1944 for the construction of 1,000 Seehund but only 285 had been completed with a further 93 under construction when the war ended. At least 138 were commissioned. Plans were developed for a more resilient version, including one featuring a closed circuit circulation engine (Type XXVIIK), but these were never completed.
The Seehund was very difficult to detect and was resistant to depth charge attacks, but when damaged, it had a tendency to leak carbon monoxide gas into the cabin. Numerous deaths were reported this way. Missions could last up to 5 days, but the longest recorded mission was 10 days.
The Seehund was the most successful midget submarine in the German Navy and between January 1945 to April 1945, 142 sorties had been conducted which resulted in the sinking of 8 ships (17,301 tons) with a loss of 35 in return. It is believed the majority of losses were caused by calamities rather than due to enemy action. Three ships were damaged for 18,384 tons. The magnitude of Allied ships and planes diverted to scour coastal areas for defense against midget submarines showed that the threat was taken very seriously. They operated mainly against Allied supply lines on the European coast and English Channel.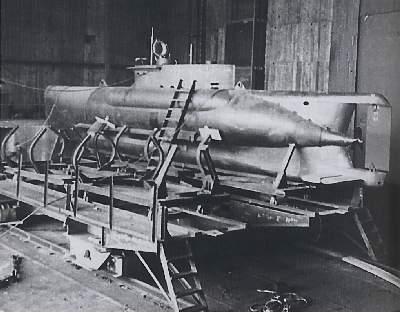 The Seehund was the most successful midget submarine. Seen here in the Konrad bunker at Kiel, May 1945.
Seehund Type XXVIIB Specification
Displacement
14.9 tons
Dimensions
Length
Beam
Diameter

38.9ft (11.85m)
5.6ft (1.7m)
4.2ft (1.28)
Top speed
Surfaced

7.7 knots
Maximum range
300nm at 7 knots
Motor output
18.4kW
Diving depth
98ft (30m)
Torpedoes
Two 21 inch
Crew
2
Number built
285