First launched in June 1936, the Type VII was not the best submarine in any particular aspect, but it was the most successful of the war and formed the backbone of the U-boat force. Like many other military designs, the original Type VII was quickly modified to provide longer range, better performance and revised armament. These additional variants resulted in an improved torpedo attack boat (VIIC), minelayer (VIID), supply boat (VIIF) and other variants such as Flak and repair boats.
There were several reasons which contributed to the selection of the Type VII as the main workhorse of the U-boat force. Technically, the Type VII had the necessary range, sea worthiness, armament, and maneuverability suitable to conduct a trade war in the North Atlantic. In order to build sufficient numbers in a war situation, the Type VII also had to be relatively cheap and quick to build. The number of sailors required to man the boat also had to be comparatively small. Crew habitability, however, was very low on the priority list.
Beyond the technical aspects, Naval policies also had an influence in the selection process. Under the Anglo-German Naval Agreement, Germany was allowed to construct submarines up to 35 percent tonnage of that of the Royal Navy. This figure was later increased to 100 percent. Since the Type VII was a medium-tonnage boat, this meant that more could be built under the existing tonnage restrictions.
A total of 709 Type VII U-boats of all variants were built during the war – this was more than any other submarine built by any other nation. There were seven main variants, Type VIIA, VIIB, VIIC, VIIC/41, VIIC/42, VIID and VIIF.
General Specification
All Type VIIs were attack boats with a single-hull design – which is to say the pressure hull is also the outer hull. To withstand sea water pressure up to a crush depth of 250 meters, the pressure hull was further reinforced with strengthening steel ribs inside the hull. Ballast was provided by several ballast tanks situated internally and externally of the pressure hull. The main tank was just below the control room, inside the pressure hull. Outside the pressure hull, external tanks were fitted at the bow and stern. These tanks however did not provide sufficient capacity, so additional saddle tanks were fitted to the sides of the hull. Diesel fuel tanks were situated inside the pressure hull to avoid leakages during a depth charge attack. The earliest variants were also fitted with serrated net cutters on the bow, a specification carried over from World War 1 boats, but these were quickly discontinued.
Type VIIA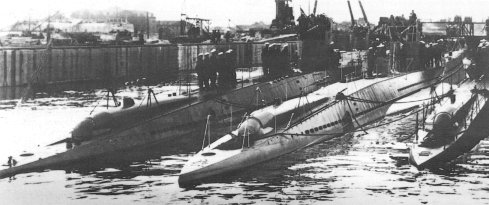 Sailors ready for an inspection on the deck of a Type VIIA. Note the external stern torpedo tube which could not be reloaded at sea. The saddle tanks are also clearly visible.
The first of the Type VII class, the VIIA was rigorously compared against the Type IA in an effort to determine the production model to be used for the U-boat force. The Type VIIA was the victor, but it lacked behind in many desirable characteristics possessed by the Type IA. It was then decided to improve on the Type VIIA and use it as a basis for further development.
Ten Type VIIAs were built, six by AG Wesser and four by Germania, which were launched between June 24 1936 and April 15, 1937.
Type VIIB

An improved version of the Type VIIA, the VIIB had a slightly lengthened hull and larger saddle tanks. This enabled a bigger fuel capacity which increased the range from 4,300nm to 6,500nm. Superchargers were fitted to the diesel engines, increasing surface speed by about 1 knot. Torpedo capacity was also increased from 11 to 14 torpedoes – two were stored externally in pressure tight containers underneath the upper deck. To improve on maneuverability and the turning radius, twin rudders were fitted directly behind the propellers. This new twin rudder arrangement allowed the single stern torpedo tube to be brought inside the pressure hull, making internal reloads at sea possible. On the Type VIIA, the stern torpedo tube was situated externally, and could be reloaded only at port.
A total of 24 Type VIIBs were commissioned.
Type VIIC

The Type VIIC retained the same characteristics of the VIIB except that it was equipped with new active sonar device. Additional space was needed for this device and to accommodate for this, the hull was further lengthened by two feet immediately fore and aft of the periscope. Other minor mechanical improvements were made, such as a new oil-filter system, air compressor and updated electrical control system.
A total of 577 Type VIICs were commissioned.
Type VIIC/41
The Type VIIC/41 was the German response to counter the effectiveness of British ASW progress made in 1940/41. As British ASW weapons and equipment improved, depth charges were becoming more effective and accurate at finding submerged U-boats. The necessity to dive even deeper to evade depth-charge attacks was becoming increasingly important. In the Type VIIC/41, the crush depth was increased from 200m to 250m.
In order to increase the crush depth, all non-essential equipment were removed and many others were replaced with newer, lighter material. The weight savings was used to increase hull thickness from 0.73in (18.5mm) to 0.83in (21mm), which increased the crush depth to 820ft (250m). These modifications were considered minor and did not warrant a new sub-type number, hence it was indicated by adding a suffix "41", indicating that the modification approval was given in the year 1941.
A total of 88 Type VIIC/41 were commissioned.
Type VIIC/42
The Type VIIC/42 was a planned further improvement of the VIIC/41. A contract was placed for 165 of this new boat, but none were ever laid, let alone completed.
This design would have housed an additional supercharger, increasing engine efficiency and surface range to 10,000nm. Surface speed would have increased by 1.6 knots to 18.6kt. The pressure hull was both lengthened, and increased in diameter to house additional equipment. However the most significant improvement of this design was for the material of the hull to be fabricated by armored quality steel. With the planned increase in thickness to 1.1in (28mm), the crush depth of this boat would have been an astonishing 1,640ft (500m).
Type VIIC/43
The Type VIIC/43 was a planned similar design to the VIIC/42, but with upgraded firepower. It was to house six bow and four stern torpedo tubes. This design was cancelled in May 1943.
Type VIID

The Type VIID was a specialized minelayer designed to lay SMA type mines in British coastal waters. These SMA mines had to be deployed vertically and differed from TMA and TMB mines which were torpedo launched.
Using the layout of the VIIC, a new section was inserted aft of the control room. Five vertical mine launchers, each comprising of three SMA mines were housed in this new section. Further space in this section was used to accommodate additional bunks and two refrigerators. The saddle tanks were also lengthened, allowing a higher capacity of diesel fuel.
The Type VIID was unique in its ability. Because the mine launchers were housed in a completely new section, this meant that the existing structure of the boat remained unchanged. Thus the torpedo and armament functions of the boat were fully operable, allowing the boat to serve a dual role – as minelayer or attack boat. However, due to its increased size and weight, it performed marginally poorer in maneuverability, speed, and diving time. Range was somewhat greater due to the lengthened saddle tanks.
A total of six Type VIIDs were commissioned between August 1941 and January 1942.
Type VIIE
This was a purely experimental version to test the performance of a newly developed German lightweight V-12, two stroke diesel engine. The weight savings from a lightweight engine would have been used in a thicker pressure, allowing for greater diving depths. The engine program however was terminated and the Type VIIE was never laid down.
Type VIIF
The Type VIIF came about as it was found that patrolling U-boats frequently returned to port after expending their supply of torpedoes – rather returning because they were low on fuel or provisions. Thus, the VIIF was a specialized boat designed for a torpedo supply role.
A new section was inserted forward of the control room which contained 24 torpedoes, arranged in four layers. An additional hatch with a system of pulleys was fitted to enable these torpedoes to be transferred between U-boats while at sea. The upper deck was also widened to further accommodate the laborious task of transferring torpedoes.
Although sounding good in theory, in practice the physical transfer of torpedoes at sea seldom worked. This involved two u-boats secured to each other at sea, unable to dive and practically vulnerable to enemy fire until the transfer was complete. The task was slow and laborious and the practice was quickly discontinued. Instead, these U-boats were relegated to transport duties, with U-602 delivering a load of torpedoes to their Japanese ally in Penang in 1944.
A total of four Type VIIF were commissioned and quickly relegated to transport duties.
Technical Specification
Type VIIA
Type VIIB
Type VIIC
Type VIIC/41
Role
Attack U-boat
Attack U-boat
Attack U-boat
Attack U-boat
Displacement
Surfaced
Submerged

626 tons
745 tons

753 tons
857 tons

761 tons
865 tons

759 tons
860 tons
Dimensions
Length
Beam
Draught

211.6ft (64.5m)
19.0ft (5.8m)
14.4ft (4.4m)

218.2ft (66.5m)
20.3ft (6.2m)
15.4ft (4.7m)

220.1ft (67.1m)
20.3ft (6.2m)
15.7ft (4.8m)

220.5ft (67.2m)
20.3ft (6.2m)
15.7ft (4.8m)
Top speed
Surfaced
Submerged

16.0 knots
8.0 knots

17.2 knots
8.0 knots

17.2 knots
7.6 knots

17.0 knots
7.6 knots
Maximum range
Surfaced at 12kt
Submerged at 4kt

4,300nm
90nm

6,500nm
90nm

6,500nm
80nm

6,500nm
80nm
Crush depth
656ft (200m)
656ft (200m)
656ft (200m)
820ft (250m)
Weapons
Bow tubes
Stern tubes
Torpedo capacity
Mines
Guns


Four 21 inch
One 21in
11
22 TMA or 33 TMB
1 x 88mm cannon
1 x 20mm Flak


Four 21 inch
One 21in
14
26 TMA or 39 TMB
1 x 88mm cannon
1 x 20mm Flak


Four 21 inch
One 21in
14
26 TMA or 39 TMB
1 x 88mm cannon
1 x 20mm Flak


Four 21 inch
One 21in
14
26 TMA or 39 TMB
1 x 88mm cannon
1 x 20mm Flak

Crew
44
44
44
44
Total built
10
24
577
88
First launch
June 24, 1936
April 27, 1938
Sept 19, 1940
July 17, 1943
Type VIIC/42
Type VIID
Type VIIF
Role
Attack U-boat
Minelayer
Torpedo Supply
Displacement
Surfaced
Submerged

999 tons
1,099 tons

965 tons
1,099 tons

1,084 tons
1,181 tons
Dimensions
Length
Beam
Draught

225.4ft (68.7m)
22.6ft (6.9m)
16.7ft (5.1m)

252.3ft (76.9m)
21.0ft (6.4m)
16.4ft (5.0m)

254.6ft (77.6m)
24.0ft (7.3m)
16.1ft (4.9m)
Top speed
Surfaced
Submerged

18.6 knots
7.6 knots

16.0 knots
7.3 knots

16.9 knots
7.9 knots
Maximum range
Surfaced at 12kt
Submerged at 4kt

10,000nm
80nm

8,100nm
69nm

9,500nm
75nm
Crush depth
656ft (200m)
656ft (200m)
656ft (200m)
Weapons
Bow tubes
Stern tubes
Torpedo capacity
Mines
Guns



Four 21 inch
One 21in
16
26 TMA or 39 TMB
1 x 88mm cannon
1 x 20mm Twin Flak
1 x 20mm Quad Flak

Four 21 inch
One 21in
14
15 SMA
1 x 88mm cannon
1 x 20mm Flak


Four 21 inch
One 21in
14 + 27
26 TMA or 39 TMB
1 x 88mm cannon
1 x 20mm Flak

Crew
45
44
46
Total built
0
6
4
First launch
-
July 24, 1941
March 12, 1943