The main theatre of the U-boat offensive was in the North Atlantic, but U-boats had actually operated in every ocean in the world except for the Antartic. Although U-boats operating in the Far East is less well known, but it demanded considerable resources and involved a large number of boats. Distant operations were unfavorable because of the limited range of U-boats and in order to support such operations, Germany needed a U-boat base in Asia. Nevertheless, in a strategic decision made in late 1942, Nazi Germany dispatched dozens of U-boats to the Far East to attack allied shipping and ferry back rubber and other scarce raw materials. But of the forty one boats dispatched to the Far East, only two would return to Germany.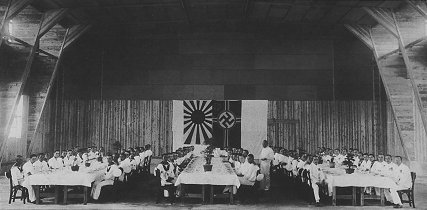 Under the Rising Sun and an incorrectly hung German Nazi flag, the two allies often sent submarines between Japan and Europe to ferry personnel, strategic supplies, and the latest military hardware.
The first group of German U-boats to sail was Gruppe Monsun, which consisted of a pack of eleven U-boats. This story traces the reasons behind German interest in Asiatic waters, the logistical difficulties faced and the ultimate fate of the U-boats that participated in these operations.
Next: German Interest in the Far East