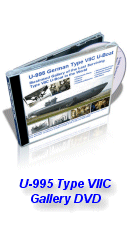 U-Boat Photo Gallery
This photo gallery attempts to capture the epic struggle of the U-boat force during the Battle of the Atlantic. During the war, German U-boats sent over 2900 ships and 14 million tons of allied shipping to the bottom of the sea, nearly cutting off the vital supplies of food, fuel and raw materials of Great Britain.


Page 1 Page 2 Page 3 Page 4 Page 5 Page 6 Page 7 Page 8
Page 9 Page 10 Page 11 Page 12 Page 13 Page 14 Page 15 Page 16
Page 17 Page 18 Page 19
---

This Liberator GR V is a U-boat's worst enemy. Equipped with airborne Mk III radar to detect U-boats, rocket rails to suppress AA fire during the attack run, and depth charges to finish off the target. Visible in this photo is the nose radome, radar antenna beneath the wings and rocket rails at the fuselage.
---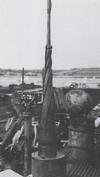 Closeup of a U-boat's periscope and "Runddipol" antenna.
---
Type VII u-boat sporting the early bridge design. This one is labelled S308, probably pressed into foreign service.
---

U-249 in Portland during the surrender in May 1945. Type VIIC, she surrendered to HMS Amethyst.
---

Memorial plaque of U-47 at the Navy Memorial in Laboe.
---

U-1023 at Plymouth. Type VIIC
---

Donitz (far right) and Erich Raeder (third from right) in this pre-war photo. The two officers frequently disagreed about the role of U-boats in the navy.
---

The U-47 amid cheering crowds, after returning from Scapa Flow (October 17 1939). Its commander Gunther Prien remains as one of the world's most celebrated skippers and its fame persists to this day.
---

A watch crew on lookout in the Atlantic.
---

A burning tanker off the American coast during the U-Boat "Second Happy time".


Page 1 Page 2 Page 3 Page 4 Page 5 Page 6 Page 7 Page 8
Page 9 Page 10 Page 11 Page 12 Page 13 Page 14 Page 15 Page 16
Page 17 Page 18 Page 19

If you have a U-boat photo to share, then we welcome you to upload it to this gallery. Photos kept in a private collection and never to be seen are a truly wasted resource, which might as well not exist. All photos are automatically rotated everyday so everybody gets their turn at the top.
Click here to submit your photo