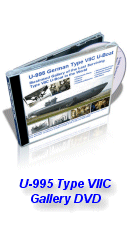 U-Boat Photo Gallery
This photo gallery attempts to capture the epic struggle of the U-boat force during the Battle of the Atlantic. During the war, German U-boats sent over 2900 ships and 14 million tons of allied shipping to the bottom of the sea, nearly cutting off the vital supplies of food, fuel and raw materials of Great Britain.


Page 1 Page 2 Page 3 Page 4 Page 5 Page 6 Page 7 Page 8
Page 9 Page 10 Page 11 Page 12 Page 13 Page 14 Page 15 Page 16
Page 17 Page 18 Page 19
---

Two Type VIIC of the 11th flotilla next to a supply ship.
---
U-172
---

U-172, discernible by the emblem. Excellent shot of the gunner peering into the gunsight.
---

Bridge view of the stormy seas from the bridge of a u-boat on patrol.
---

U-30, U-31, U-32 early Type VIIA u-boats.
---

U-19 and U-23 lying alongside in the dockyard for assembly.
---

U 13, taken at sea, unknown date and unknown location
Contributor: Sean Ravencraft Report
---

A Type XIV U-459 U-boat. This was a supply boat, also dubbed "Milk Cows". These had no torpedo tubes or any offensive weapons, but they had anti-aircraft guns for self-defense. Only ten were ever built, and all were systematically sunk by the Allies.
---

U-552, Red Devil boat of Erich Topp
---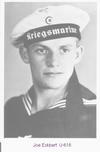 Joe Eckbert of U-616.

With thanks to Gerard Walker.


Page 1 Page 2 Page 3 Page 4 Page 5 Page 6 Page 7 Page 8
Page 9 Page 10 Page 11 Page 12 Page 13 Page 14 Page 15 Page 16
Page 17 Page 18 Page 19

If you have a U-boat photo to share, then we welcome you to upload it to this gallery. Photos kept in a private collection and never to be seen are a truly wasted resource, which might as well not exist. All photos are automatically rotated everyday so everybody gets their turn at the top.
Click here to submit your photo