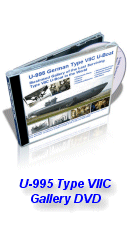 U-Boat Photo Gallery
This photo gallery attempts to capture the epic struggle of the U-boat force during the Battle of the Atlantic. During the war, German U-boats sent over 2900 ships and 14 million tons of allied shipping to the bottom of the sea, nearly cutting off the vital supplies of food, fuel and raw materials of Great Britain.


Page 1 Page 2 Page 3 Page 4 Page 5 Page 6 Page 7 Page 8
Page 9 Page 10 Page 11 Page 12 Page 13 Page 14 Page 15 Page 16
Page 17 Page 18 Page 19
---

The Bull of Scapa Flow - Gunther Prien in U-47 seen here departing from Kiel harbor.
---

U-953 type VIIC (OL Herbert Werner) on the left and U-851 Type IXD2 (KK Jurgen Oesten) docked at the Trondheim bunker, September 1944.
---

Type XXI U-boat. Note the streamlined hull to maximize underwater speed.
---

Nicknamed by Churchill as the "Scourge of the Atlantic", a Focke Wulf Fw-200 Kondor under U-boat command. In the first three months of 1941, Kondors sank 171,000 tons of shipping.
---

Italian archimedes u-boat.
---

U-47 commanded by U-boat ace Gunther Prien, receiving a salute from the German Cruiser Emden.
---

Photo of Biber midget submarine in London museum.
Contributor: David Report
---

This is a photo of John Tennant and my Great Uncle Frederick Frood who went down with the HMS Courageous on Sept. 17th in 1939. My great grandmother never got over his death and convinced herself that he had been taken prison and would one day return. She believed this until the day she died. War is very sad indeed!!! suedraper@cogeco.ca
Contributor: Sue Draper Report
---

Torpedo Data Computer or TDC. It was used to calculate a torpedo firing solution.
---

Forward torpedo room of U-995, a Type VIIC boat.


Page 1 Page 2 Page 3 Page 4 Page 5 Page 6 Page 7 Page 8
Page 9 Page 10 Page 11 Page 12 Page 13 Page 14 Page 15 Page 16
Page 17 Page 18 Page 19

If you have a U-boat photo to share, then we welcome you to upload it to this gallery. Photos kept in a private collection and never to be seen are a truly wasted resource, which might as well not exist. All photos are automatically rotated everyday so everybody gets their turn at the top.
Click here to submit your photo