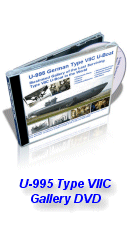 U-Boat Photo Gallery
This photo gallery attempts to capture the epic struggle of the U-boat force during the Battle of the Atlantic. During the war, German U-boats sent over 2900 ships and 14 million tons of allied shipping to the bottom of the sea, nearly cutting off the vital supplies of food, fuel and raw materials of Great Britain.


Page 1 Page 2 Page 3 Page 4 Page 5 Page 6 Page 7 Page 8
Page 9 Page 10 Page 11 Page 12 Page 13 Page 14 Page 15 Page 16
Page 17 Page 18 Page 19
---

U-181
Contributor: bad karma Report
---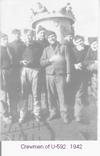 Crewmen of the U-592. The boat's emblem is barely visible on the conning tower. Also note the 88mm barrel the crew is leaning on.

With thanks to Gerard Walker.
---

Crewmen of the U-592 in Burgun, 1942.

With thanks to Gerard Walker.
---

The sinking of HMS Barham as the magazine section blows up.
---

HMS Ark Royal, tilting after torpedo attack.
---

type xxi
Contributor: Luciano Report
---

Flak U-Boat conversion U-462.
---


Contributor: cem akkilic Report
---

British carrier HMS Ark Royal under tow after being torpedoed by U-81 (Guggenberger). She subsequently sunk with one loss of life, but over seventy Swordfish aircraft were also destroyed.
---

U-160 from U-177,19 apr 1943,pic III
Contributor: bad karma Report


Page 1 Page 2 Page 3 Page 4 Page 5 Page 6 Page 7 Page 8
Page 9 Page 10 Page 11 Page 12 Page 13 Page 14 Page 15 Page 16
Page 17 Page 18 Page 19

If you have a U-boat photo to share, then we welcome you to upload it to this gallery. Photos kept in a private collection and never to be seen are a truly wasted resource, which might as well not exist. All photos are automatically rotated everyday so everybody gets their turn at the top.
Click here to submit your photo