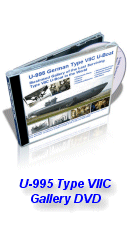 U-Boat Photo Gallery
This photo gallery attempts to capture the epic struggle of the U-boat force during the Battle of the Atlantic. During the war, German U-boats sent over 2900 ships and 14 million tons of allied shipping to the bottom of the sea, nearly cutting off the vital supplies of food, fuel and raw materials of Great Britain.


Page 1 Page 2 Page 3 Page 4 Page 5 Page 6 Page 7 Page 8
Page 9 Page 10 Page 11 Page 12 Page 13 Page 14 Page 15 Page 16
Page 17 Page 18 Page 19
---

One of the last photos off the U-507 attacked by plane in Brazilian Coast. This boat was sunk in this attack.
Contributor: Marcello Magnelli Report
---

37mm and 20mm anti-aircraft cannon on a Type VIIC U-Boat.
---
---
---

SEA WOLF
Contributor: VEDRAN Report
---
---

U-410's comissioning ceremony on 23 Feb 1942 Danziger Werft AG, Danzig.
Contributor: Report
---

Kriegsmarine authorities and civilian workers witness the commissioning ceremony of U-410 23 Feb 1942
Contributor: Nicolás Bracco Report
---

Crew of U-410 standing on deck during the commissioning ceremony 23 Feb 1942
Contributor: Nicolás Bracco Report
---

U-410 during her commissioning ceremony 23 Feb 1942. There is an inscription at the back which says "setting flag and penant, I stand in the first row at the left side" From my research, the shortest man on formation onboard the deck is Hans Gerisch.
Contributor: Nicolás Bracco Report


Page 1 Page 2 Page 3 Page 4 Page 5 Page 6 Page 7 Page 8
Page 9 Page 10 Page 11 Page 12 Page 13 Page 14 Page 15 Page 16
Page 17 Page 18 Page 19

If you have a U-boat photo to share, then we welcome you to upload it to this gallery. Photos kept in a private collection and never to be seen are a truly wasted resource, which might as well not exist. All photos are automatically rotated everyday so everybody gets their turn at the top.
Click here to submit your photo