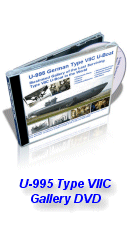 U-Boat Photo Gallery
This photo gallery attempts to capture the epic struggle of the U-boat force during the Battle of the Atlantic. During the war, German U-boats sent over 2900 ships and 14 million tons of allied shipping to the bottom of the sea, nearly cutting off the vital supplies of food, fuel and raw materials of Great Britain.


Page 1 Page 2 Page 3 Page 4 Page 5 Page 6 Page 7 Page 8
Page 9 Page 10 Page 11 Page 12 Page 13 Page 14 Page 15 Page 16
Page 17 Page 18 Page 19
---

Return from the mission
Contributor: vedran Report
---

u-boat taking fuel from transport submarine
Contributor: vedran Report
---

Periscope view of a sinking destroyer taken from a US sub in the Pacific. The sinking ship is a Japanese destroyer.
---

British aircraft carrier, HMS Courageous.
---

The surrender of U-1023 to HMS Mounsey (Lieutenant Commander G. C. Julian RNZNVR) as seen by Sub-Lieutenant Stock (Boats Officer) at 2300 on 10th May 1945, off Lands End.
Contributor: John Julian Report
---
Inside coning tower
Contributor: Neil Jezierski Report
---
Rudder Inside coning tower
Contributor: Neil Jezierski Report
---

U - 505 just prior to being moved to unerground Inside coning tower
Contributor: Neil Jezierski Report
---

U - 505 just prior to being moved to unerground exhibition space.
Contributor: Neil Jezierski Report
---
U-505 scanned from an original 8x10 (labeled & stamped in red Top Secret)
Contributor: Don Scott Report


Page 1 Page 2 Page 3 Page 4 Page 5 Page 6 Page 7 Page 8
Page 9 Page 10 Page 11 Page 12 Page 13 Page 14 Page 15 Page 16
Page 17 Page 18 Page 19

If you have a U-boat photo to share, then we welcome you to upload it to this gallery. Photos kept in a private collection and never to be seen are a truly wasted resource, which might as well not exist. All photos are automatically rotated everyday so everybody gets their turn at the top.
Click here to submit your photo