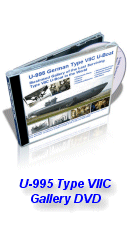 U-Boat Photo Gallery
This photo gallery attempts to capture the epic struggle of the U-boat force during the Battle of the Atlantic. During the war, German U-boats sent over 2900 ships and 14 million tons of allied shipping to the bottom of the sea, nearly cutting off the vital supplies of food, fuel and raw materials of Great Britain.


Page 1 Page 2 Page 3 Page 4 Page 5 Page 6 Page 7 Page 8
Page 9 Page 10 Page 11 Page 12 Page 13 Page 14 Page 15 Page 16
Page 17 Page 18 Page 19
---

The U-47 amid cheering crowds, after returning from Scapa Flow (October 17 1939). Its commander Gunther Prien remains as one of the world's most celebrated skippers and its fame persists to this day.
---

A watch crew on lookout in the Atlantic.
---

A burning tanker off the American coast during the U-Boat "Second Happy time".
---

Water streams down from beneath the outer hull of a Type VII U-boat.
---

An unknown U-boat somewhere in the Bay of Biskaya. Photos were taken end of 1942 or beginning 1943 by the late Walter Gärner, a crew member of SG 2.
Contributor: Klaus Günther Report
---

A U-boat entering St. Nazaire by way of the Nouvelle Écluse (New floodgate). Photos were taken end of 1942 or beginning 1943 by the late Walter Gärner, a crew member of SG 2.
Contributor: Klaus Günther Report
---

U-boat use snorkel
Contributor: vedran Report
---

Preparaton torpedos for attack on convoy
Contributor: vedran Report
---

Return from the mission
Contributor: vedran Report
---

u-boat taking fuel from transport submarine
Contributor: vedran Report


Page 1 Page 2 Page 3 Page 4 Page 5 Page 6 Page 7 Page 8
Page 9 Page 10 Page 11 Page 12 Page 13 Page 14 Page 15 Page 16
Page 17 Page 18 Page 19

If you have a U-boat photo to share, then we welcome you to upload it to this gallery. Photos kept in a private collection and never to be seen are a truly wasted resource, which might as well not exist. All photos are automatically rotated everyday so everybody gets their turn at the top.
Click here to submit your photo